Become a Patron
Information on who can sign up for a Marcellus Township Wood Memorial Library Card and what services come are available for library cardholders.
The library serves residents in the following townships: Marcellus, Volinia, Newberg, Porter and Flowerfield.
Residents of Marcellus, Volinia, Newburg, Porter and Flowerfield townships must fill out a library card application in order to borrow materials from the library.
Proof of identification is required for borrowers over the age of 13, in the form of a driver's license, a bill with a local address, or a student ID.
Patrons under the age of 13 must have the signature of a parent or guardian to obtain a library card.
Patrons of the Cass District Library or Van Buren District Library may provide their CDL or VBDL cards to receive a Marcellus Township Wood Memorial Library card through our reciprocal agreements. https://www.cassdistrictlibrary.org/locations/  https://www.vbdl.org/branch-locations/
Persons from outside of district who wish to obtain a library card from outside of district may pay a one-time fee of $20.00 for borrowing privileges. 
Teachers and students in the Marcellus and Howardsville School districts may have a complementary card as long as they are working or studying in the district. Employees of the school district who work in Marcellus but reside out of district may also qualify for a free library card.
Fill out our short application form and bring it to the library along with valid ID (or a bill with a local address or student ID) and you can borrow items today!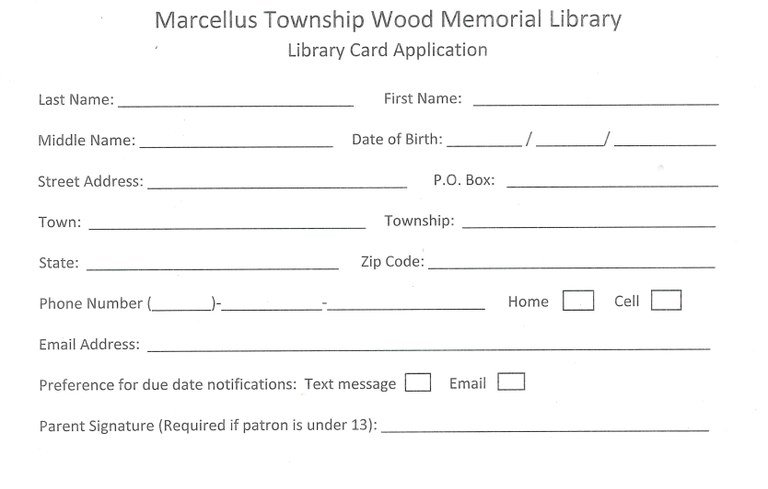 Now that you have a library card, there are a few policies you should know.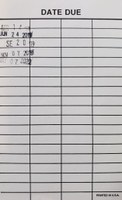 Upon receiving a library card, patrons may begin to borrow materials. Patrons are limited to a check-out of 3 movies and 75 books per library card.
The Marcellus Township Wood Memorial Library has gone fine free, except DVDs and interlibrary loans. Patrons are still responsible for replacement costs of lost or damaged items. Borrowing privileges may be revoked pending the return of overdue items.
Overdue DVDs are assigned a late fee of $1 per day and overdue interlibrary loan books are 10¢ per day.
Loan Periods:
Books and audiobooks on CD - 3 weeks
Movies - Newly released DVDs are for overnight rental only.
All other DVDs can be borrowed for 1 week.
Magazines - 1 week