Library News
Learn what's new at the library!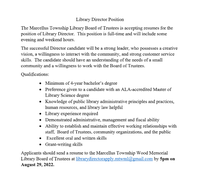 Library Director Position
The Marcellus Township Library Board of Trustees is accepting resumes for the position of Library Director. This position is full-time and will include some evening and weekend hours.

The successful Director candidate will be a strong leader, who possesses a creative vision, a willingness to interact with the community, and strong customer service skills. The candidate should have an understanding of the needs of a small community and a willingness to work with the Board of Trustees.

Qualifications:
 Minimum of 4-year bachelor's degree
 Preference given to a candidate with an ALA-accredited Master of
Library Science degree
 Knowledge of public library administrative principles and practices,
human resources, and library law helpful
 Library experience required
 Demonstrated administrative, management and fiscal ability
 Ability to establish and maintain effective working relationships with
staff, Board of Trustees, community organizations, and the public
 Excellent oral and written skills
 Grant-writing skills
Applicants should send a resume to the Marcellus Township Wood Memorial
Library Board of Trustees at librarydirectorapply.mtwml@gmail.com by 5pm on
August 29, 2022.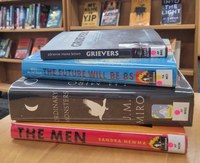 If you're a fan of strange and unusual phenomena, stop by the new fiction display today. Ranging from dystopian to sci-fi and fantasy, there's a novel waiting for you to take a little break from reality.  
The Dead Romantics by Ashley Poston features a writer who returns home for the first time in a decade for her father's funeral. It feels like nothing in this town has changed. And she hates it. Until she finds a ghost standing at the funeral parlor's front door, too tall and too broad to be her father, and he's just as confused about why he's there as she is. Romance is most certainly dead . . . but so is her new editor, and his unfinished business will have her second-guessing everything she's ever known about love stories. 
Any Sign of Life by Rae Carson follows Paige Miller, who is determined to take her basketball team to the state championship, but falls deathly ill. Days later, she wakes up attached to an IV and learns that the whole world has perished. Everyone she loves, and all of her dreams for the future are gone. Paige pushes through her fear and grief each day scrounging for food, for shelter, for safety. As she struggles with her new reality, Paige learns that the apocalypse did not happen by accident. And that there are worse things than being alone. 
Ordinary Monsters by J.M. Miro reimagines the past in Victorian London. Two children with mysterious powers are hunted by a figure of darkness--a man made of smoke. Sixteen-year-old Charlie Ovid, despite a brutal childhood in Mississippi, doesn't have a scar on him. His body heals itself, whether he wants it to or not. Marlowe, a foundling from a railway freight car, shines with a strange bluish light. He can melt or mend flesh. When a jaded female detective is recruited to escort them to safety, all three begin a journey into the nature of difference, and belonging, and the shadowy edges of the monstrous. 
The Men by Sandra Newman opens with Jane Pearson camping with her husband and their five-year-old son, before drifting off to sleep. That night, every single person with a Y chromosome vanishes around the world, disappearing from operating theaters mid-surgery, from behind the wheels of cars, from arguments and acts of love. Her family is gone. No one knows why, how, or where. Meanwhile, strange video footage called "The Men" is being broadcast online of the vanished men marching through barren, otherworldly landscapes. Is this just a hoax, or could it hold the key to the Disappearance? 
Grievers by Adrienne Maree Brown Dune's mother is patient zero of a mysterious illness that stops people in their tracks - casting them into a nonresponsive state from which no one recovers. As the quarantined city slowly empties of life, she investigates what caused the plague and follows in the footsteps of her late researcher father. Tracking the sick and dying, she discovers patterns, finds comrades in curiosity, and the unexpected magic that emerges when the debt of grief is cleared. 
UPCOMING LIBRARY EVENTS: 
Friday, August 5, 5-7PM: Document shredding will be offered outside the library during First Friday and our biggest book sale of the year will be happening inside! Name your own price for high quality, gently used books and DVDs! 
Wednesday, August 31, 6PM: Grown Up Game Night will be the last Wednesday of each month, offering a chance to socialize, play a variety of board games and enjoy coffee, tea & charcuterie! 
Fiction:  Bloodless (Pendergast: Book 20 of 20) by Douglas Preston, Lincoln Child, et al; The Anatomy of Desire by L. R. Dorn; All the Water I've Seen is Running by Elias Rodriques; Billy Summers by Stephen King; Comrade Koba by Robert Littell; and A Deadly Fortune by Stacie Murphy, Eryn O'Sullivan, et al.
Nonfiction:  The Brilliant Abyss: Exploring the Majestic Hidden Life of the Deep Ocean, and the Looming Threat That Imperils It by Helen Scales; Bringing up Race: How to Raise a Kind Child in a Prejudiced World by Uju Asika; and Get Good with Money: Ten Simple Steps to Becoming Financially Whole by Tiffany Aliche.
Young Readers New Books:
Yes and No by Elisha Cooper (ages 2-6).
The Caiman by Maria Eugenia Enrique and Ramon Paris (ages 5-8).
History Smashers Series: The American Revolution by Kate Messner
and Justin Greenwood (ages 8-12).
Activities:
Preschool Story Hour:  Fall Story Hour will begin again on Wednesday, September 15, from 10:15 to 11:00 a.m., and will continue every Wednesday through October 27.   Join us for stories, music, and movement.  Take-home snack will be provided.  Babies and toddlers are welcome to join the class!
Sculpture and Stories with John Mooy:  John Mooy will tell stories from his more than 40 years as a stone sculptor on Friday, September 3 at the library from 5:00-7:00 p.m. during First Friday activities.
Crochet Classes with Korinne New will begin on September 23 at 5:30 p.m. at the library.  Call the library to RSVP at 646-9654.
The Hobbit:  Douglas A. Anderson, local resident and worldwide expert on the
textual history of The Hobbit, will present a program on September 23 at 7:00 p.m. at the library.
Yoga for Beginners returns to the library:  Instructor Dave Sivley will hold yoga classes every Tuesday from September 14 to October 19, from 6:30-7:30 p.m. at the library.  Cost:  $5.00 per class, payable to Dave.  Bring mat, towel and water.  RSVP to the library (646-9654) or to Dave Sivley at 269-365-6315.
Adult Book Club meets the first Thursday of every month at 12:00 noon at the library.
On May 6, 2021, the Marcellus Township Library Board Meeting celebrated Christine Nofsinger's 25 years of service as library director.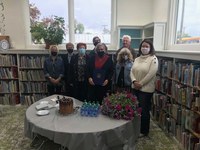 Those of us who remember our library 25 years ago recognize the remarkable amount of improvements and growth that our library has seen in the last 25 years with Christine Nofsinger as Director.
From beautiful renovations to unique local events, her vision and passion is apparent when you visit our library. While Covid-19 has brought challenges and required some adjustments to the way our community hub operates, we are looking forward to the ways that Chris will inspire, engage and improve our community in her 26th year of service and beyond!
If you didn't get a chance to see our newly renovated children's room last fall, be sure to stop in when we reopen this week to see this wonderful update in person!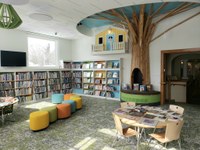 The Marcellus Township Library invites the public to visit its newly renovated Children's Room. Bright colors, lively carpet, tree house and innovative lighting have transformed the Children's Room into an inviting new space.
Designed by library staff in consultation with Arkos Design, Inc., the new room feels spacious, clean and welcoming. Books fill the brightly painted shelves, and a tree house encourages children to read and dream.
Construction was contracted to Gary Nofsinger, of The Wood Shaper. He was assisted by Willard Fenton-Miller, carpenter; Joe Mroczek, electrician; and Amanda Conley, who made the seat around the tree.
The library staff invite the Marcellus community to visit the library to see the changes in the children's room, and to check out books that will delight and stimulate children's minds.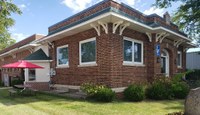 The Marcellus Township Library has received a grant to purchase two picnic tables with umbrellas, which will provide seating for library patrons who access internet connections in front of the library.
The grant was awarded to the library by the Michigan Department of Education, which gives grants to schools, libraries and museums with funds from the CARES Act.  The CARES Act was enacted by the US government in March 2020 to provide funds for institutions which are struggling with the effects of the COVID-19 pandemic.
The shaded tables will provide comfortable seating for library patrons who are accessing the library's free WIFI connection outside the building or from vehicles parked in front of the library.  
Masks and social distancing are required at the picnic tables, just as they are inside the library.
The library reopens with limits and precautions following the Covid-19 closure. Plans are subject to change.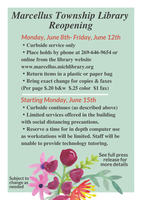 The Marcellus Township Wood Memorial Library is preparing a step-by-step schedule for re-opening, based on the Covid-19 guidelines provided by Governor Whitmer and the Library of Michigan. The Library Board, Director and staff are grateful for the patience of their patrons during the recent closure, and are eager to see renewed activity at the library.
During the week of Monday, June 8 through Friday, June 12 the Marcellus Library will provide curb-side services, but the building itself will be closed. Staff will be available to receive returned books, and deliver books and movies which have been checked out by phone (269-646-9654), or online from the library website (https://www.marcellus.michlibrary.org/), at the curb in front of the library door. Please return books in clean plastic or paper bags; checked out books and videos will be placed in clean plastic bags. Curbside service will continue for those who are not comfortable entering the building.
In addition, staff will be able to make copies, send and receive faxes, at the curbside. Patrons are requested to bring, if possible, correct change for these services: copies, $.20/page black and white, $.25 color; faxes: $1.00/page.
On Monday, June 15, the library doors will open once again for basic services, with a few pandemic-related changes. Patrons are requested to enter and leave promptly, as seating will not be available and numbers must be limited. Staff would be grateful if patrons wear a mask in the library, and practice social distancing.
Only three computers will be available at one time, separated by dividers. Patrons are requested to limit their use of computers to 30 minutes. Staff will not be available to help with difficult computer tasks. Patrons are encouraged to call the library to reserve a time for projects which require more than 30 minutes.
There will be no programs or group gatherings at the library for the next few months. But library staff are busy preparing summer reading ideas for all ages. Pre-schoolers can watch for a chance to pick up "grab and go" packages with fun activities and reading ideas. Packets and on-line activities will also be available for elementary, middle and high school readers, as well as for adults. All adults can join the Book Brunch Club, which will keep in touch through the website and emails.
After weeks of silence, the library is looking forward to hearing doors open and people greeting each other. Staff are looking forward to seeing smiling eyes above masks, and providing encouragement and stimulation through books and website activities for the vibrant Marcellus community.
By Suzanne Lind and Elisabeth Wenger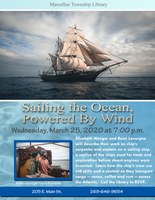 Many people wonder what it was like to sail the small sailing ships that explored the world and developed trade in past centuries. Elisabeth Wenger, Marcellus area resident, will tell about her adventures as the "bosun" on the engineless sailing cargo brigantine, the Tres Hombres, at the Marcellus Township Library on Wednesday, March 25, 2020 at 7:00 p.m.
Wenger spent much of the past three years as an apprentice on the Tres Hombres, learning traditional maintenance and sailing skills used on old wooden sailing cargo vessels. During her three trans-Atlantic voyages, she worked her way up to the position of Bosun, ship's carpenter.
Wenger will be joined for this presentation by her partner, Remi Lavergne, the captain of Tres Hombres. He has worked on the ship for several years, beginning as apprentice for several voyages and attending maritime college in Europe. Lavergne has a deep knowledge of the merchant marine industry, having worked on many different ships, from the traditional Tres Hombres to sleek modern yachts.
The Tres Hombres is exactly like the ships used for all international trade until steam engines were invented. Today a small but dedicated group of enthusiasts all over the world are working to resurrect old ships and old skills. Wenger says, "Working on these ships is a way to test our mettle, adventure out onto the wild ocean, and treat our earth gently in a world where international trade is one of the most polluting industries there is."
Wenger and Lavergne will tell the story of a scrappy cargo company, determined to show that a different way is possible. The company began when three friends from the Netherlands built their first ship together in South Haven, Michigan, and sailed it back to Europe, where they raised funds to refit the two-masted brigantine, the Tres Hombres. This ship has been making yearly trading trips to the Caribbean for over ten years.
Wenger loves her work on the Tres Hombres, and invites everyone to attend her presentation at the library: "Come hear about the wilderness of the ocean, the beautiful and elusive dolphins, whales, orcas and seabirds, the endless sky, endlessly changing. Come hear about traditional sailing knowledge, navigating by the stars and a sextant, maneuvering an engineless ship inside modern harbors. Learn how we load our Caribbean cargo of cacao, coffee, and barrels of rum under the blazing sun, setting sail with a cargo hold full and all hatches battened, in all weather and with a spirited crew of volunteers, all eager to learn and work together to accomplish a terrific goal."
The Marcellus Township Wood Memorial Library joined the trend; We are now fine free! For details, read on...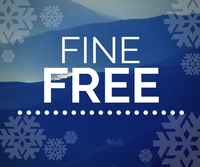 It's official: The Marcellus Township Library is going fine free!
On January 1, 2020, all current overdue fines will be waived.
No more daily fines for overdue materials (excluding DVDs and interlibrary loan materials).
Patrons are still responsible for returning items and paying for any lost or damaged materials.
A series of reminders to return overdue materials will be sent.
Materials that are more than 10 days overdue will result in the blocking of a patron's account until overdue items are returned.
Patrons will be billed the replacement cost for any items that are damaged or overdue by 30 days.
Studies have shown that late fines are not effective and that small fines have no impact on return rates. Going fine free ensures that all people have access to library materials which is our primary purpose as a public library.
We've been rearranging! The children's section may look a little different the next time you visit, but we think you'll like it!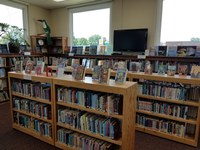 We've shifted the JF section to make room for all the wonderful juvenile nonfiction that has been hiding among the adult nonfiction. Check out books on science, history, art, nature and more! We love seeing how many inquisitive young readers have already found new and exciting books to keep learning over summer break! We're happy to help if you have any trouble finding your favorite author or series in their new location.
We're partnering with the Southwest Michigan Land Conservancy as one of the pick up locations for hiking sticks after registration with the HOP program!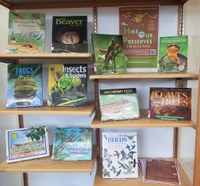 On Saturday, June 29th, Southwest Michigan Land Conservancy launched the 3rd year of the Hike Our Preserves (HOP!) program with hiking stick pick-up for paid registrants at 13 participating libraries across southwest Michigan.
HOP! is a year-round program that encourages kids to get fit while having fun outdoors. Registration costs $7 per participant, and includes a free hiking stick, as well as a medallion for each of the HOP preserves hiked. The first 50 participants to complete hikes at 10 out of the 11 preserves will receive a free gift from Jr. Rangerland Educational Publishing. Choices include puzzles, books, games, water bottles, and more! This year, SWMLC is partnering with 13 libraries across southwest Michigan so that families can combine a trip to the library with with up their hiking stick!
Participants must register online at https://swmlc.org/hop/ or in person at the Southwest Michigan Land Conservancy office at 8395 East Main St, Galesburg MI 49053. Registration is ongoing, so you can register at any time. Free hiking sticks can be picked up by showing proof of paid registration at any of the participating HOP! library locations, including:
Antwerp Sunshine Library in Mattawan
Bangor Branch Library
Bloomingdale Branch Library
Covert Branch Library
Gobles Branch Library
Lawrence Branch Library
Marcellus Township Wood Memorial Library
Parchment Community Library
Paw Paw District Library
Portage District Library
Richland Community Library
Schoolcraft Community Library
Webster Memorial Branch Library in Decatur.
Becky Moore presented memorabilia and information about our local fair dating back to the 1800s.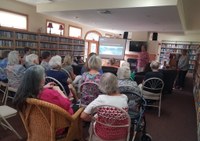 We absolutely love when our events are so well attended that we need to bring out more seating! We have to thank the Home Arts group for bringing such a fantastic presentation to the library. We hosted such a wonderful crowd to learn more about our local history and to get an up-close look at so many interesting historical items (and to partake in chocolates and ice cream)!
"I am so incredibly grateful. This community has never turned down a millage request in the 73 years since the library was first put on the ballot, in 1945, with a request for ½ mill. We are so very fortunate to be in a township which values the library."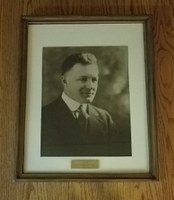 November 7, 2018 was a happy day at the Marcellus Township Wood Memorial Library.  Library Director Christine Nofsinger greeted her staff with her arms in the air and a big smile on her face as she announced that the residents of Marcellus Township had voted the previous day to continue to pay 2 mills as part of their annual taxes to support the library.
"I am so incredibly grateful," Nofsinger said.  "This community has never turned down a millage request in the 73 years since the library was first put on the ballot, in 1945, with a request for ½ mill.  We are so very fortunate to be in a township which values the library."
An additional ½ mill was added in 1997, increasing the millage to 1 mill.  In 2012 a proposal to add an additional 1 mill was passed, bringing the library millage to 2 mills.  The vote this year renews the 2 mill amount for the coming years. 
As recent articles in The Marcellus News have described, there have been people in the Marcellus area who have cared deeply about the library since 1895.  First it was the Ladies' Library Association; later a bequest from Russell Wood made it possible to build a library building.  Many local people have pitched in and worked with township authorities to create a well-organized and solidly supported library.  Committed local residents have given hundreds of volunteer hours to guiding the library's development through their role as library board members (also known as trustees) and as supportive library patrons.
Library staff persons had an extra lilt in their steps after receiving the news of the millage passage.  Staff members Byron Cuddleback, Joy Kozik, Jo Beachy, Patty Witten and Suzanne Lind walk past a picture of benefactor Russell Wood many times a day.  On this day they could look once again at that picture, give a smile and an imaginary high-five, and say, "Thanks, Russell!  You did a good thing and this great community is continuing to help the library fulfill its mission," which is:
The Marcellus Township Wood Memorial Library serves as the center for lifetime learning and enjoyment in order to improve the quality of life for all citizens.  It does this by providing resources that enhance and contribute to knowledge, enlightenment, cultural and recreational needs.  As a community resource, the library's mission is to enrich life, stimulate curiosity, foster literacy and provide the resources necessary for an informed citizenry.
State Representative Aaron Miller and State Senator Kim LaSata visited the Marcellus Township Library today to engage with community members and discuss important issues within our state.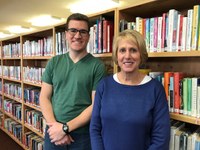 We had a great turnout today as State Representative Aaron Miller and State Senator Kim LaSata ate lunch at the library with community members who discussed a wide range of important state issues. Keep an eye on our upcoming events or follow us on Facebook to find out about future opportunities for more enriching civic engagement.