International Awareness Learning & Action Day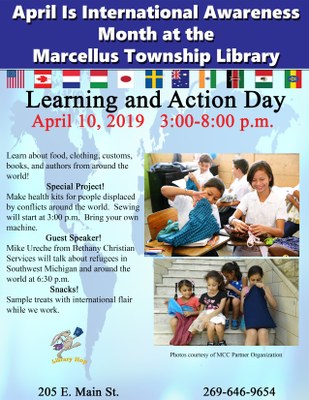 Learn about food, clothing, customs, books and authors from around the world!
When

Apr 10, 2019

from 03:00 PM to 08:00 PM

(US/Eastern / UTC-400)

Where

Marcellus Township Library

Contact Phone

269-646-9654

Add event to calendar

iCal

Special Project: Make health kits for people displaced by conflicts around the world. Sewing will start at 3:00PM. Bring your own machine.
Guest Speaker: Mike Ureche from Bethany Christian Services will talk about refugees in Southwest Michigan and around the world at 6:30PM.
Snacks: Sample treats with international flair while we work!