The Elizabethan Wardrobe or "Is that a flea on your shoulder?"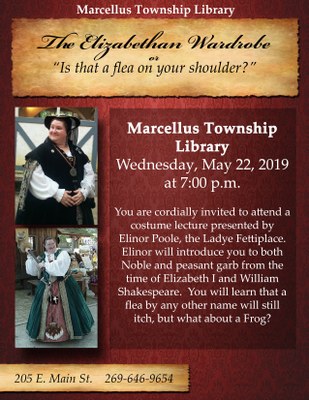 You are cordially invited to attend a costume lecture presented by Elinor Poole, the Ladye Fettiplace.
When

May 22, 2019

from 07:00 PM to 08:00 PM

(US/Eastern / UTC-400)

Where

Marcellus Township Library

Contact Phone

269-646-9654

Add event to calendar

iCal
Elinor will introduce you to both Noble and peasant garb from the time of Elizabeth I and William Shakespeare. You will learn that a flea by any other name will still itch, but what about a Frog?