History of the Library - Part 3
Army Frowns and Smiles: A Book Review by Suzanne Lind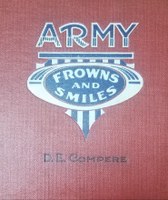 Dr. D. E. Compere, First Lieutenant, Military Corps, U. S. Army, from Dallas, Texas, wrote a book, Army Frowns and Smiles, which was published in Dallas by the Hargreaves Printing Company in 1920.  The price of the book was $2.00.
The book is dedicated "To the memory of an orphan, Private Russell A. Wood, No. 673 Aero Supply Squadron, A.G.S.D. & C.C., who died October 11. 1918, at Camp Morrison, Va. 'without proper medical attention.'  Also to the memory of each noble hero who made the supreme sacrifice and gave his life for our country, but especially to all those who died as the result of hard-boiled, cold-blooded, callous neglect."
Last week's article about Dr. Compere in the Marcellus News, "Dr D.E. Compere's Amazing Letter-Writing Campaign," introduced how this man became aware of library benefactor Russell Wood's death in a military hospital during World War I, and how it drove him to campaign for better medical care for soldiers.  Himself a military doctor, Compere was so angered by the treatment received by Wood and others, that he undertook a letter-writing campaign to military and government leaders.  When he received no attention from his many letters and visits, he decided to write a book.
Dr. Compere chose a clever way to introduce his concerns, and his belief that army and government officials were ignoring and "white-washing" misconduct and incompetence.  He wrote a book which documents his campaign for changes, and also provides funny, happy, poignant songs, jokes, poems, and "smileisms" (one-liners) which he had collected during his travels during W.W.I.
It seems that Dr. Compere was a creative whistle-blower, all those years ago!
In his Preface, Dr. Compere begins by describing the purpose of the book: "There are two sides to every story, even Army life.  The dark, sad, serious experiences, reversed by the comic, joyous, light-hearted happenings, which are smile productive.  Variety is the spice of life, thus I beg to present Army Frowns and Smiles.  A serious, urgent appeal for justice, flavored by the soldier's courage shield, a smile."
The theme of Dr. Compere's disillusionment with army hierarchy, his deep displeasure at having been labeled a liar, and his defense of what he had done to promote better care for wounded and sick soldiers is outlined in a variety of ways,  described in the preface and in various notarized documents and letters to officials. 
Dr. Compere includes 20 letters which he wrote in 1919, trying to get someone to recognize his concerns as valid.  He wrote to, among others:  Judge Advocate General in Washington D.C.; Chairman of the Military Affairs Committee of the U.S. Senate; the Surgeon General of the U.S.; The American Medical Association; the Secretary of War; President Woodrow Wilson; The Associated Press; The American Legion; the Chief of Inspection and Investigation Dept., Surgeon General's Office; and the Adjutant General of the Army.  He tells his story over and over.  He did not receive any positive responses but was always referred to someone else.  The book includes copies of nine letters in response to Dr. Compere's correspondence; most are not from the person addressed, but from an assistant or secretary.
The Dallas Dispatch newspaper in Dallas, Texas, did write two lengthy editorials supporting Dr. Compere's concerns.
Wrapping up the first section of his book, Dr. Compere wrote, "Private Wood was a stranger to me and was not under my command and I could not treat him; therefore, hard boiledly, cold bloodedly speaking I should not have counted his unconscious respiration as I sat on my brother's cot across the ward, and found them fifty per minute.  I should not have interested myself enough to ask Lieutenant Nelson, the war surgeon: 'What is the temperature?' and heard him say: 'I think it is about one hundred and four.'  My brother told me it had not been taken for over thirty-six hours, and when they give a patient up to die, they just let him die.  I should not have asked if they used ice packs and cold sponge baths for such excessive high temperature and heard the reply: 'No,' also that they did not use vaccine serum, etc., and their treatment was Dover's powders and strychnine.  I should not have noticed about twelve-thirty p.m. the ward orderly came around with the above mentioned medicine giving every patient a dose regardless of his individual condition, an automatic order, so every bed got a dose and when he could not prize this poor unconscious boy's mouth open with a spoon, I heard this remark: 'Oh well, when you can't get their mouths open there's nothing else to do'.  I should have ignored that absolutely nothing was done for this dying boy from about eight-thirty a.m. until after three-thirty p.m. when I reported this case to Major Butler, the camp surgeon, who gave me to understand that it was none of my business.  In other words, I should have passed on the other side of the road.  'No!' a thousand times 'No!' I did the Good Samaritan act by this dying private.  I tried to secure proper medical attention for him, which he was justly entitled to, and as result even though he died the next day at six-fifty-one p.m. unattended by a medical officer and even though I am branded a liar my conscience is clear, I have this conviction, I did my duty, served my Country, and my God."
The Smiles section of the book begins with an article from The Dallas Dispatch on October 3, 1919, by Mamie Folsom Wynne.  She writes, "This is a story of a little red note-book, and its war record.
"Dr. Dolphus E. Compere, well-known (medical) specialist . . .  possesses a fine tenor voice, and has been heard in solo and quartette work in Dallas for a number of years. . .  (When he began his military service) he began making an alphabetical index of old, familiar songs of his college days, in a little red note-book, with which he prompted his memory at gatherings of solders at the Y.M.C.A. . . . where sing songs were often the program for an evening."
The collection grew as Dr. Compere moved from camp to camp, always finding someone to sing with or accompany him, when he entertained soldiers in their camps, or at Red Cross events, schools, clubs and churches. 
Dr. Compere himself wrote, "The work of compiling suitable material for 'Smiles' evenings were (sic) made easy for me, by a very sympathetic secretary who took my scrawled notes of song words overheard in hospital wards, on the street cars, and in the canteens, and typed them for insertion in my little note-book, which had become my very close companion."
After 45 pages of letters to officials, Army Frowns and Smiles concludes with 145 pages of poems  --  old favorites and some made up or adapted by soldiers --  that express the loneliness and difficulties of wartime, both for soldiers and for those at home.  There are many that refer to the meatless days soldiers and those remaining at home had to endure.  For example:
            I have eaten a bale
                        Of spinach and kale,
            And I've never raised a row.
                        I have swallowed a can
            Of moistened bran
                        And I feel like a brindle cow.
            I am taking a snack
                        From the old haystack
            In the even shadows grey,
                        And I'm glad, you bet,
            At last to get
                        To the end of a meatless day.
                                    Anonymous
One of the "Smileisms," which are one-liners picked up here and there from soldiers and other people, says, "Remember the wheatless day and keep it wholly."
And one of the jokes:
            Captain (sharply): "Button up that coat!"
            Married Recruit (absently): "Yes, my dear."
Typical of wartime material, many of the items in this section focus on making fun of the German army and German leaders.  Others are common sense advice and encouragements to make the best of hard times.  Many also reflect with humor on the discomforts of army life: "Noah would have saved future soldiers a lot of trouble if he had swatted those two cooties when they marched up the gangplank of the ark."
Army Frowns and Smiles is a tribute to the spirit of national pride, honesty, "can-do-ism" and good humor of Americans in the early part of the 20th century.    It is remarkable that Dr. Compere's brief encounter with the dying Russell Woods could spark such a highly readable example of advocacy for a cause, combined with a delightful peek into the humor and pathos of the World War I years.
This book is available for people to read at the library, but since it is part of the archives (historical documents) it cannot leave the library.  It has a red cover, just like the original note-book!  It is well worth an hour of reading time on one of the comfortable library couches.