History of the Library - Part 4
The Library Building at 203 E. Main Street By Suzanne Lind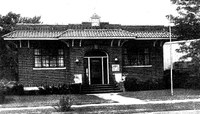 The Marcellus Library Basement is the storage area for many wonderful things:  craft supplies and prizes for children's programs, seasonal decorations, building supplies, tools, and many, many files and newspapers, old and new.  Part of my work as a library staff member is to make sure this treasure trove is kept in order and all items identified and inventoried. 
Over the past two years I have had the thrill of discovering much about the history of the library and Marcellus town, by sorting through hundreds of old files, scrap books, photos and memorabilia which have been stored in the library over the past 93 years.  I am a "newbie" to Marcellus, so this was a great education.  (Watch for an article later in this series which will tell about some of the most unusual items stored in the library basement treasure trove.)
As I sorted the items in boxes and on shelves in the basement, I found an old black portfolio folder, tied with a string.  It was labeled "Papers pertaining to the building of the Russell A. Wood Library in Marcellus."   It contained a jumble of old documents, scribbled notes, elegant hand-written letters, bids and contracts and even a court summons.  After a few hours of sorting, smoothing out wrinkles, poring over old copies with a magnifying glass, and putting in date order, a fascinating glimpse into the building of the library was revealed. 
The first letter in the series is from Samuel Lowry, who had been a friend to the library's benefactor, Russell Wood, and executor of the will in which Wood left money to build a library in Marcellus.  The letter is dated May 9, 1924, and addressed to Julius Stern, a Marcellus business man and chair of the Library Building Committee.  It is written in an elegant script, on fine stationary, and was somewhat difficult to decipher.  It reads:
"Friend Julius:  I am in receipt of your letter.  I have been waiting to hear from Koster.  Will write him again today.  If Koster does not want to act, I will at once appoint some one else.  Since having the mumps I have not been well at all.  Family are well, thank God.  I am wondering if you have had any talks with Koster regarding this matter.  I sure would have enjoyed having fun with you on the 50th birthday of S. Stern & Co.  I am yours truly, S.W. Lowry
P.S.  Julius – I am enclosing a power of attorney for Koster so that you may go at the building. (to save time) see Koster and if he will accept you may hand this to him.  Sam"
It is very likely that this letter indicates that Russell Wood's will had been finalized and the money he bequeathed for the construction of the Marcellus Library was available for use.  Wood died in 1919, and it would have taken some time for the will to be completely finalized.  The Koster referred to was a Marcellus contractor who eventually was part of the building team.
On July 1, 1924, Julius Stern, Secretary of the Library Building Committee, wrote to Milton Billingham, of Billingham & Cobb, Engineers and Architects, Kalamazoo MI, informing him that they are ready to receive bids for the library design and construction.  His letter says:
"We are now ready to go ahead with the building of our library.  Have had some conversation with your mother and she tells me that you would like to make the plans.
"We have a corner lot 66' x 120' facing south and west and about $9500.00 available for a building.  This amount must cover all costs including build-in book cases, plumbing, heating, lighting, grading of lot etc."
A similar offer was sent to Mr. LaRoy, Architect, in Kalamazoo, but no further correspondence with him appears.
C. J. Billingham wrote back on July 19, informing Stern that he would be coming to Marcellus to look over the lot before submitting a sketch of a proposed building. On August 27 Billingham informed Stern that his company was sending a set of plans and specifications covering the construction, plumbing, electrical work and furnace for the library. (Those plans are not, unfortunately, included in the file.)  He said that he would have bids from contractors in a week and would deliver those.  Also included was a draft of a contract for construction, costing $9,830, with $491.50 put into escrow to be paid if the construction is not completed well or on time.  The letter also stated that construction will be completed in 90 days!
In among the letters and documents in the file are three large, thin sheets of paper, folded haphazardly.  When opened, they reveal architect's sketches for the outside, basement and main floor of the proposed library.  What a find!  They are done in pencil, the outside view gently colored with red to show how the architect hoped it would look.  The basement was designed to be the children's library, with two restrooms.  The main floor was the adult section, with tables for study, and two more restrooms.  These three sketches are now on display at the Library.  Viewers can try to imagine the library as it looked when it consisted only of the room now devoted to children's and youth books and the basement below it, which is now a storeroom for memories.
The final building sub-contracts went to Kalamazoo Building Company, which hired various businesses, most of them located in Marcellus, for specific jobs.  One of these businesses was Frank Patch General Hardware in Marcellus.  Their letterhead advertised that they provide "paints, oils, varnishes, farm implements, steel posts, gasoline engines, cream separators, wagons, auto accessories, heating, plumbing, roofing pumps and all kinds of tin work."
On September 8 Frank Patch wrote to Billingham & Cobb: "I propose to furnish and install all fixtures and piping for a complete installation for the sum of . . . $478.00."  For this amount he would install:  1 drinking fountain; 2 water closets with syphon jet; 2 lavatories with plug, chain and trap. . .   He adds, "We will build the septic tank of dimensions 4'x4'x8' or equivalent of cement and the dry well we propose to lay up from stone now on the premises and complete same with 18" manhole cover and ring.  Water from roof to be taken care of through tile to street gutter or to a separate cess pool. . . Flashing around vent from closets to roof to be lead. . . If allowed to use Standard Soil Pipe instead of Extra Heavy deduct $12.00.  If you decide to use Wash Down Bowls in Closets in place of Syphon Jet type deduct $20.00." 
Julius Stern mentions in a September 16 note to Billingham & Cobb that the Library Building Committee had received a proposal from Maddalena Bros. to furnish Marble Tarrazzo floor at the same price as the Asbestoloid Floor specified in the contract.   Stern writes: "We will leave it to your judgment to use this flooring if you think it advisable."   Later correspondence shows that this company did install terrazzo flooring.
Another bid came from Brick and Supplies Corporation, Building Materials, Lansing MI on September 17: "In the event that face brick have not already been selected for the new Memorial Library to be erected in your city we would appreciate the opportunity of submitting samples to you.  We have a brick that is especially suitable for this class of construction and believe it would be worth your while to grant us the privilege of showing you these brick.  May we be favored by hearing from you?"
There are various letters, bills, receipts and sub-contracts in the file, dating from September 1924 to May 1925.   On May 1, 1925, Julius Stern wrote to Billingham & Cobb: "We are getting very anxious to have our Library job completed and wish that you would get after Clapp to finish the work so that the building can be turned over.  There are some little details that will have to be corrected before this is done.  Mr. Patch has the Plumbing and heating job completed and wants his money, we want you to OK the work before we pay him.  Please advise if you will be here soon."
Also in early May, Stern received a letter from Maddalena Bros., Mosaic Contractors, Jackson MI "in regard to payment of terrazzo work, which was done in the Marcellus Library very early this spring.  (Mr. Clapp of the Kalamazoo Construction Co.) advised us that he had not received all of his payment for the above named job, and that we take the matter up with you in regard to payment of our work, which amounts to $355.00."
On May 18 the Library Building Committee received a summons to appear in Cass County Circuit Court for non-payment of $410.06 owed to Isaac M. Smith & Son, Building Material, Marcellus MI for building supplies used by sub-contractor Peter Clapp of Kalamazoo Building Company.  A memo from Stern to Billingham & Cobb on July 20 says: "I think that we have been lenient enough with the Kalamazoo Bldg Co., and now want to get the job completed so that we can turn the building over to the village.  Have Clapp finish the job at once, or arrange to have some one else do it.
            "The following is still to be done, Put mold in vestibule, Paint molding now up, Varnish cold air grills, put catch on front vestibule door, fix rear door so lock works, fix holes in plaster around pipes in closet, clean out the basement."
Following these exchanges, the file contains a flurry of payments, receipts, requests for payments, explanations for non-payments  --  all beginning with the salutation, "Gentlemen," and ending with "Respectfully yours."  By mid-September, all bills had been paid or payments reimbursed. 
Finally, the last half-page item in the file is a copy of a note from the Russell A. Wood Library Building Committee to Billingham & Cobb, dated September 16, 1925: "Enclosed please find Village Treasurer check for $100.00 to pay balance due you on the Russel A. Wood Library job.  Kindly send receipt and oblige."
It had taken one year to build the long-awaited Library at 203 E. Main Street, Marcellus MI.  Russell Wood's dream had come true.