Bosun and Captain of Sailing Ship to Speak at Library
By Suzanne Lind and Elisabeth Wenger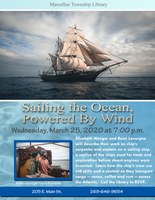 Many people wonder what it was like to sail the small sailing ships that explored the world and developed trade in past centuries. Elisabeth Wenger, Marcellus area resident, will tell about her adventures as the "bosun" on the engineless sailing cargo brigantine, the Tres Hombres, at the Marcellus Township Library on Wednesday, March 25, 2020 at 7:00 p.m.
Wenger spent much of the past three years as an apprentice on the Tres Hombres, learning traditional maintenance and sailing skills used on old wooden sailing cargo vessels. During her three trans-Atlantic voyages, she worked her way up to the position of Bosun, ship's carpenter.
Wenger will be joined for this presentation by her partner, Remi Lavergne, the captain of Tres Hombres. He has worked on the ship for several years, beginning as apprentice for several voyages and attending maritime college in Europe. Lavergne has a deep knowledge of the merchant marine industry, having worked on many different ships, from the traditional Tres Hombres to sleek modern yachts.
The Tres Hombres is exactly like the ships used for all international trade until steam engines were invented. Today a small but dedicated group of enthusiasts all over the world are working to resurrect old ships and old skills. Wenger says, "Working on these ships is a way to test our mettle, adventure out onto the wild ocean, and treat our earth gently in a world where international trade is one of the most polluting industries there is."
Wenger and Lavergne will tell the story of a scrappy cargo company, determined to show that a different way is possible. The company began when three friends from the Netherlands built their first ship together in South Haven, Michigan, and sailed it back to Europe, where they raised funds to refit the two-masted brigantine, the Tres Hombres. This ship has been making yearly trading trips to the Caribbean for over ten years.
Wenger loves her work on the Tres Hombres, and invites everyone to attend her presentation at the library: "Come hear about the wilderness of the ocean, the beautiful and elusive dolphins, whales, orcas and seabirds, the endless sky, endlessly changing. Come hear about traditional sailing knowledge, navigating by the stars and a sextant, maneuvering an engineless ship inside modern harbors. Learn how we load our Caribbean cargo of cacao, coffee, and barrels of rum under the blazing sun, setting sail with a cargo hold full and all hatches battened, in all weather and with a spirited crew of volunteers, all eager to learn and work together to accomplish a terrific goal."