HOP! with Southwest Michigan Land Conservancy
We're partnering with the Southwest Michigan Land Conservancy as one of the pick up locations for hiking sticks after registration with the HOP program!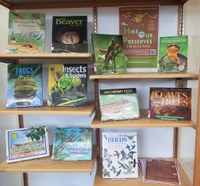 On Saturday, June 29th, Southwest Michigan Land Conservancy launched the 3rd year of the Hike Our Preserves (HOP!) program with hiking stick pick-up for paid registrants at 13 participating libraries across southwest Michigan.
HOP! is a year-round program that encourages kids to get fit while having fun outdoors. Registration costs $7 per participant, and includes a free hiking stick, as well as a medallion for each of the HOP preserves hiked. The first 50 participants to complete hikes at 10 out of the 11 preserves will receive a free gift from Jr. Rangerland Educational Publishing. Choices include puzzles, books, games, water bottles, and more! This year, SWMLC is partnering with 13 libraries across southwest Michigan so that families can combine a trip to the library with with up their hiking stick!
Participants must register online at https://swmlc.org/hop/ or in person at the Southwest Michigan Land Conservancy office at 8395 East Main St, Galesburg MI 49053. Registration is ongoing, so you can register at any time. Free hiking sticks can be picked up by showing proof of paid registration at any of the participating HOP! library locations, including:
Antwerp Sunshine Library in Mattawan
Bangor Branch Library
Bloomingdale Branch Library
Covert Branch Library
Gobles Branch Library
Lawrence Branch Library
Marcellus Township Wood Memorial Library
Parchment Community Library
Paw Paw District Library
Portage District Library
Richland Community Library
Schoolcraft Community Library
Webster Memorial Branch Library in Decatur.