Library Board Honors 25th Year of Director's Service
On May 6, 2021, the Marcellus Township Library Board Meeting celebrated Christine Nofsinger's 25 years of service as library director.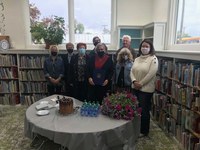 Those of us who remember our library 25 years ago recognize the remarkable amount of improvements and growth that our library has seen in the last 25 years with Christine Nofsinger as Director.
From beautiful renovations to unique local events, her vision and passion is apparent when you visit our library. While Covid-19 has brought challenges and required some adjustments to the way our community hub operates, we are looking forward to the ways that Chris will inspire, engage and improve our community in her 26th year of service and beyond!