New Juvenile Nonfiction Section
We've been rearranging! The children's section may look a little different the next time you visit, but we think you'll like it!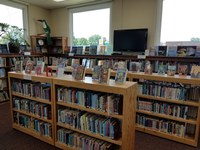 We've shifted the JF section to make room for all the wonderful juvenile nonfiction that has been hiding among the adult nonfiction. Check out books on science, history, art, nature and more! We love seeing how many inquisitive young readers have already found new and exciting books to keep learning over summer break! We're happy to help if you have any trouble finding your favorite author or series in their new location.