History of the Cass County Fair
Becky Moore presented memorabilia and information about our local fair dating back to the 1800s.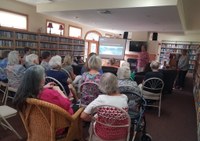 We absolutely love when our events are so well attended that we need to bring out more seating! We have to thank the Home Arts group for bringing such a fantastic presentation to the library. We hosted such a wonderful crowd to learn more about our local history and to get an up-close look at so many interesting historical items (and to partake in chocolates and ice cream)!