Library Director Position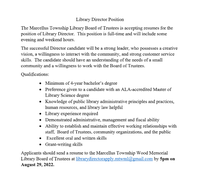 Library Director Position
The Marcellus Township Library Board of Trustees is accepting resumes for the position of Library Director. This position is full-time and will include some evening and weekend hours.

The successful Director candidate will be a strong leader, who possesses a creative vision, a willingness to interact with the community, and strong customer service skills. The candidate should have an understanding of the needs of a small community and a willingness to work with the Board of Trustees.

Qualifications:
 Minimum of 4-year bachelor's degree
 Preference given to a candidate with an ALA-accredited Master of
Library Science degree
 Knowledge of public library administrative principles and practices,
human resources, and library law helpful
 Library experience required
 Demonstrated administrative, management and fiscal ability
 Ability to establish and maintain effective working relationships with
staff, Board of Trustees, community organizations, and the public
 Excellent oral and written skills
 Grant-writing skills
Applicants should send a resume to the Marcellus Township Wood Memorial
Library Board of Trustees at librarydirectorapply.mtwml@gmail.com by 5pm on
August 29, 2022.