Marcellus Library Anticipates Reopening
The library reopens with limits and precautions following the Covid-19 closure. Plans are subject to change.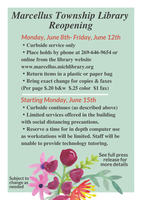 The Marcellus Township Wood Memorial Library is preparing a step-by-step schedule for re-opening, based on the Covid-19 guidelines provided by Governor Whitmer and the Library of Michigan. The Library Board, Director and staff are grateful for the patience of their patrons during the recent closure, and are eager to see renewed activity at the library.
During the week of Monday, June 8 through Friday, June 12 the Marcellus Library will provide curb-side services, but the building itself will be closed. Staff will be available to receive returned books, and deliver books and movies which have been checked out by phone (269-646-9654), or online from the library website (https://www.marcellus.michlibrary.org/), at the curb in front of the library door. Please return books in clean plastic or paper bags; checked out books and videos will be placed in clean plastic bags. Curbside service will continue for those who are not comfortable entering the building.
In addition, staff will be able to make copies, send and receive faxes, at the curbside. Patrons are requested to bring, if possible, correct change for these services: copies, $.20/page black and white, $.25 color; faxes: $1.00/page.
On Monday, June 15, the library doors will open once again for basic services, with a few pandemic-related changes. Patrons are requested to enter and leave promptly, as seating will not be available and numbers must be limited. Staff would be grateful if patrons wear a mask in the library, and practice social distancing.
Only three computers will be available at one time, separated by dividers. Patrons are requested to limit their use of computers to 30 minutes. Staff will not be available to help with difficult computer tasks. Patrons are encouraged to call the library to reserve a time for projects which require more than 30 minutes.
There will be no programs or group gatherings at the library for the next few months. But library staff are busy preparing summer reading ideas for all ages. Pre-schoolers can watch for a chance to pick up "grab and go" packages with fun activities and reading ideas. Packets and on-line activities will also be available for elementary, middle and high school readers, as well as for adults. All adults can join the Book Brunch Club, which will keep in touch through the website and emails.
After weeks of silence, the library is looking forward to hearing doors open and people greeting each other. Staff are looking forward to seeing smiling eyes above masks, and providing encouragement and stimulation through books and website activities for the vibrant Marcellus community.