Library News - August 1, 2022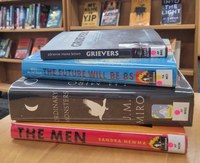 If you're a fan of strange and unusual phenomena, stop by the new fiction display today. Ranging from dystopian to sci-fi and fantasy, there's a novel waiting for you to take a little break from reality.  
The Dead Romantics by Ashley Poston features a writer who returns home for the first time in a decade for her father's funeral. It feels like nothing in this town has changed. And she hates it. Until she finds a ghost standing at the funeral parlor's front door, too tall and too broad to be her father, and he's just as confused about why he's there as she is. Romance is most certainly dead . . . but so is her new editor, and his unfinished business will have her second-guessing everything she's ever known about love stories. 
Any Sign of Life by Rae Carson follows Paige Miller, who is determined to take her basketball team to the state championship, but falls deathly ill. Days later, she wakes up attached to an IV and learns that the whole world has perished. Everyone she loves, and all of her dreams for the future are gone. Paige pushes through her fear and grief each day scrounging for food, for shelter, for safety. As she struggles with her new reality, Paige learns that the apocalypse did not happen by accident. And that there are worse things than being alone. 
Ordinary Monsters by J.M. Miro reimagines the past in Victorian London. Two children with mysterious powers are hunted by a figure of darkness--a man made of smoke. Sixteen-year-old Charlie Ovid, despite a brutal childhood in Mississippi, doesn't have a scar on him. His body heals itself, whether he wants it to or not. Marlowe, a foundling from a railway freight car, shines with a strange bluish light. He can melt or mend flesh. When a jaded female detective is recruited to escort them to safety, all three begin a journey into the nature of difference, and belonging, and the shadowy edges of the monstrous. 
The Men by Sandra Newman opens with Jane Pearson camping with her husband and their five-year-old son, before drifting off to sleep. That night, every single person with a Y chromosome vanishes around the world, disappearing from operating theaters mid-surgery, from behind the wheels of cars, from arguments and acts of love. Her family is gone. No one knows why, how, or where. Meanwhile, strange video footage called "The Men" is being broadcast online of the vanished men marching through barren, otherworldly landscapes. Is this just a hoax, or could it hold the key to the Disappearance? 
Grievers by Adrienne Maree Brown Dune's mother is patient zero of a mysterious illness that stops people in their tracks - casting them into a nonresponsive state from which no one recovers. As the quarantined city slowly empties of life, she investigates what caused the plague and follows in the footsteps of her late researcher father. Tracking the sick and dying, she discovers patterns, finds comrades in curiosity, and the unexpected magic that emerges when the debt of grief is cleared. 
UPCOMING LIBRARY EVENTS: 
Friday, August 5, 5-7PM: Document shredding will be offered outside the library during First Friday and our biggest book sale of the year will be happening inside! Name your own price for high quality, gently used books and DVDs! 
Wednesday, August 31, 6PM: Grown Up Game Night will be the last Wednesday of each month, offering a chance to socialize, play a variety of board games and enjoy coffee, tea & charcuterie!