Picnic Tables and Umbrellas Enhance Library Access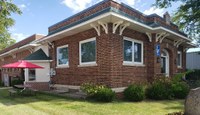 The Marcellus Township Library has received a grant to purchase two picnic tables with umbrellas, which will provide seating for library patrons who access internet connections in front of the library.
The grant was awarded to the library by the Michigan Department of Education, which gives grants to schools, libraries and museums with funds from the CARES Act.  The CARES Act was enacted by the US government in March 2020 to provide funds for institutions which are struggling with the effects of the COVID-19 pandemic.
The shaded tables will provide comfortable seating for library patrons who are accessing the library's free WIFI connection outside the building or from vehicles parked in front of the library.  
Masks and social distancing are required at the picnic tables, just as they are inside the library.