Children's Room Renovations
If you didn't get a chance to see our newly renovated children's room last fall, be sure to stop in when we reopen this week to see this wonderful update in person!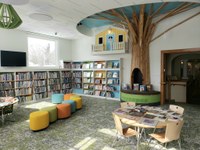 The Marcellus Township Library invites the public to visit its newly renovated Children's Room. Bright colors, lively carpet, tree house and innovative lighting have transformed the Children's Room into an inviting new space.
Designed by library staff in consultation with Arkos Design, Inc., the new room feels spacious, clean and welcoming. Books fill the brightly painted shelves, and a tree house encourages children to read and dream.
Construction was contracted to Gary Nofsinger, of The Wood Shaper. He was assisted by Willard Fenton-Miller, carpenter; Joe Mroczek, electrician; and Amanda Conley, who made the seat around the tree.
The library staff invite the Marcellus community to visit the library to see the changes in the children's room, and to check out books that will delight and stimulate children's minds.