April 1, 2021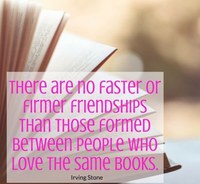 Hello, Friends,
Today was not a good day for people to come out to book club, and I was sorry to learn that some of you are not feeling well.  Second covid shot can be a tough one.  But we still had a great conversation, with Irene on the zoom, and Dawn, Chris, Joy and me at the library.  We were April Fools who talked and laughed a lot.
Here are the books we discussed:
Chris and Dawn discovered that they have both fallen in love with Kristin Hannah's books recently.  They told us about

 

The Nightingale

 

and

 

The Four Winds.  The library has 15 of the 22 books she has written, and Chris says she will order those we don't yet have. 
Irene sent this message: 

 

 "I read THE HATE YOU GIVE by ANGIE THOMAS. I didn't like it much because of the language -- too many swear words. I am sure the story was nice but I just read 2 chapters and stopped .Then I read THE SURGEON by TESS GERRITSEN.  That was a FANTASTIC Spine Tingling Suspense Thriller .The author is a Surgeon so refers to all kinds of medical stuff .REALLY LOTS OF TWISTS.  Then I read ALL THE UGLY AND WONDERFUL THINGS by BRYAN GREENWOOD:  a family consumed with drugs and violence and children trying to do the right thing and raise themselves.  Really nicely written with many tragedies but also joys.
Educated, by Tara Westover.
Sweetgrass, by Mary Alice Monroe.
The Mission House, by Carys Davies.
Night in Tehran, by Philip Kaplan.
The Girls in the Stilt House by Kelly Mustian.
We will plan to have our next gathering on Thursday, May 6.  Hopefully it will be a beautiful, warm spring day and we will meet at the library and everyone will be healthy and masks will feel good and we'll have a grand time.  I will be in touch before then to bug you!  Keep reading!
Best greetings,
Suzanne