August 5, 2020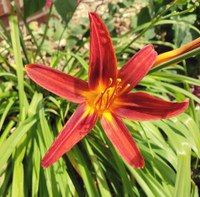 Hello, Marcellus Library Readers/Brunchers!
Once again, no brunch.  But it's important to stay in touch and to keep encouraging each other to read and to maintain friendships.  I would love to hear from each of you about 1) how you are, and 2) what you are reading.   I know several people who say they just can't read anymore, and for a while I couldn't either, but now I am "back to books" and have also discovered that word searches (large print) are very calming for me!  So that's a new pastime.
We have a lot of new books at the library.  You can read some of the titles in the "Library News" section of The Marcellus News each week.  Or you can come into the library, if you feel safe enough, and check out the New Books shelf.  The library is clean, sanitized and staffed by caring, masked staff members. 
Recently I have read:
Finna, by Nino Cipri, a very short, strange book; sort of science fiction, sort of social commentary.  Mediocre fiction, in my humble opinion.
Darling Rose Gold, by Stephanie Wrobel.  This is an interesting psychological-thriller-type book, but not really gripping.
Afterlife, by Julia Alvarez.   A relatively short, interesting novel about the death of a spouse, challenges which
relate to immigration, and maturing even in older years. 
I miss you all, I miss our brunches, and I hope you are all well.  Keep reading!  Tell me about it!
Suzanne