December 2020 Book Club Notes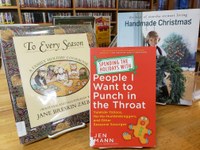 Dear Book Club friends,
I think the December Book Club meeting came up too soon for some of us, and I also realize that members who have children are probably busy helping them with their virtual school work --  or are getting lunch for them  --  so it was not too surprising that only three of us were able to zoom together yesterday.  Laura Dunn, Chris Nofsinger and I had a good time discussing books . . . and life . . .  and various things yesterday.  Patty Witten and Kathy Rolfe sent me email notes about books they have been reading.  
Here are the books that were shared about yesterday:
The Midnight Library by Matt Haig
The Collector by Nora Roberts
Just Us: An American Conversation by Claudia Rankine
Nobody Will Tell You This But Me by Bess Kalb
I Saw Him Die by Andrew Wilson
Detective Vera Stanhope series by Ann Cleeves (Kathy is reading the second book in the series, and I am reading the most recent one, which I found on the new books shelf in the library last week.) 
The Book Collectors: A Band of Syrian Rebels and the Stories that Carried them through a War by Delphine Minoui
We plan to continue Book Club Zooms on the first Thursday of every month from now on until the library can once again open to the public.  So put zooming on the first Thursday on your calendars for the next few months if you can.  Or let me know that you can't zoom and we'll see if we can find other ways for you to participate.
I hope we all find new joys as well as challenges during this unusual holiday season.  Keep reading!  Stay safe!
Hoping to see you or hear from you in January,
Suzanne