February 4, 2021
A small online gathering...with hope we can meet in person in the near future!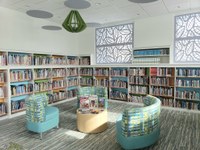 Hello, Book Club People!
 We had a small group on our Zoom meeting yesterday, but we had good conversation and laughter.   And today I had some good news:
The Library will be reopening on February 8!  There will still be some restrictions, but at least people can now come in to look for and to check out books.  And that means that, unless the pandemic slams us really hard again in the next few weeks, we can have our March book club meeting at the library  --  in the beautiful, newly redecorated Children's Room!  Of course, we will wear masks and sit well distanced from each other, but at least we can be together in person, and hopefully more of us will be able to attend.  Yay!
 These guidelines will be in place starting next Monday: Curbside service will continue for those who prefer that method, but patrons are welcome to return to usual library use.  The following Covid-related guidelines remain in effect:  1. Wear a mask which covers both mouth and nose.  2. When possible, call and reserve a time to use a computer.  3. Limit computer use to 30 minutes, except by special permission.
 Here are the books we talked about yesterday:
An Inconvenient Wife, by Mary Hoban
In Praise of Difficult Women:  Life Lessons from 29 Heroines who Dared to Break the Rules, by Karen Karbo
Broken Places (A Chicago Mystery) Book 1 of 4,  by Tracy Clark
Northern Lights, by Nora Roberts
The Radium Girls: The Dark Story of America's Shining Girls, by Kate Moore
Killer Instinct (Instinct Series: Book 2 of 2), by James Patterson and Howard Roughan
All My Mother's Lovers, by Ilana Masad
Hamnet: A Novel of the Plague by Maggie O'Farrell
Murder in Old Bombay, by Nev March
The Talented Miss Farwell, by Emily Gray Tedrowe
The Sakuru Obsession: The Incredible Story of the Plant Hunter Who Saved Japan's Cherry Blossoms, by Naoko Abe
Doesn't that make you drool and long to get back into the library and scour the new book shelves?!  Please do keep reading something as we plow through winter and hope for spring.  Stay safe!  Love your books!
Suzanne
P.S.  Here is a message from Dawn, who could not join the group yesterday:  "I read The Sisterhood of the Traveling Pants, and watched the movie.  The message it had for me:  Don't be afraid to express your feelings.  Find courage anywhere.  Be grateful for friends and family."