June 4, 2020
Unable to meet at the library, the discussion continues online.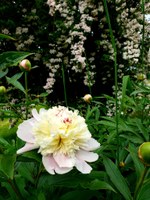 Hello, Library Book Club Brunchers!
Here it is a first Thursday of the month, and we need to talk. I have been thinking a lot about all of you and hoping that you are well, that you have found ways to stay calm but not depressed, and that you are reading.
A few weeks ago I read a book written by a college friend of my husband's, Florine Gingerich. It was written in 2001 and is no longer in print, but she sent us a copy a few years ago. It is called Lungo Drom, which means Long Road; it's the story of a group of Gypsy families in France, Italy and Belgium during WWII. It's a wonderful look into their lives and traditions, and includes a very nice love story, but it is sad because it also tells how they were rounded up and placed in concentration camps.
Then Chris said she liked Cilka's Journey, by Heather Morris, written in 2019, and also set in a concentration camp in 1942. I decided to read Morris's first novel, The Tattooist of Auschwitz first, since it was written first, in 2018.
The characters of all three of these books end up in Auschwitz-Birkenau concentration camp. So this is a rather heavy-duty diet of sadness and tiny triumphs. But they are well written and engaging. I promise to have them back in the library by June 15.
I'm also reading The Hired Man, by Aminatta Forna. I read her book Happiness a few weeks ago, and loved it, so thought I'd try this one, too. It's off to a slow start, but I'll pick it up again soon.
I told Kathy that I'd read the last book of Charles Todd's Ian Rutledge detective series and was not too impressed. She suggested I start at the beginning of the series, with A Test of Wills, and see if I like reading them in order better. So I will; they are next in line. There are 19 of them! Yikes! I hope I like them and can whizz through them. Or maybe first and last two/three will be enough?
What are you reading, dear friends? Patty is going to put this message on the website or Facebook and you could respond there so that we can all share about our reading experiences. During this deeply troubling time of pandemic and social unrest, books can continue to be our guides, our comforters, our inspirers, our occasional escape.
AND: (drum roll) The library is going to reopen, with some changes, over the next couple weeks. Please read the schedule and special conditions on the web site or Facebook.
All best wishes, Bruncher-Readers!
Suzanne