May 8, 2020
We'd love to hear what you're reading during the Covid-19 closures.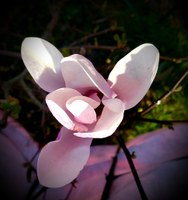 Hello, Book Brunchers!
I knew there was something I wanted to do yesterday, but couldn't remember what it was until this morning, when I realized that it was the first Friday of May, and that I had forgotten to write to you on the FIRST THURSDAY of the month! You will all probably be very understanding: it's hard for all of us to keep track of days and intentions right now, isn't it?
But here we are, looking into the unknown, and wondering if and when we'll sit together to munch and share about books. It may be quite a while yet. But that doesn't mean we can't encourage each other, and share ideas about good books. And watch for Book Bingo, coming up on the web site, soon, maybe.
What have you been reading during the past strange weeks? I'd love to get an email from you, or see a post from you on Facebook or the library web site, to share about books; perhaps to muse a little about what role books are playing for you during this sad, sad pandemic.
I read my first Charles Todd mystery (Inspector Ian Rutledge) -- A Divided Loyalty -- but I can't remember a thing about it so am not sure if I finished it. It's written by a mother-son team.
I started but did not finish:
The Promise by Silvina Ocampo
I Myself Have Seen It: The Myth of Hawaii by Susanna Moore.
Syria's Secret Library: Reading and Redemption in a Town Under Siege, by Mike Thomson
Notorious RBG: The Life and Times of Ruth Bader Ginsburg, by Irin Carmon and Shana Knizhnik
Rumi Wisdom: Daily Teachings from the Great Sufi Master, by Timothy Freke

Others I sort of flew through:
To the Land of Long Lost Friends, by Alexander McCall Smith
10-Pound Penalty, by Dick Francis
Rules of Deception, by Christopher Reich
A Conspiracy of Bones, by Kathy Reichs
The Nuttiest Riddle Book in the World by Morrie Gallant (looking for riddles to text to grandkids)
Thought-provoking, intense reads:
Light in August, by William Faulkner
Holy Masquerade, by Olov Hartman
I've just started Bread of Love, by Peder Sjogren. Not sure about this one . . . .
I miss you all! We'll try to keep you informed about next steps for the library on the web page, and in the newspaper. Please write to me or to the web page or on Facebook to reassure us all that you are still reading!
Love to all,
Suzanne