May 20, 2021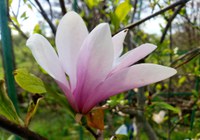 Seven of us met at the library May 6th for, as usual, a lively discussion. I hope more of you will be able to come as the weather warms up, and, hopefully, as covid precautions continue to provide good guidance over the summer.
Here are the books we discussed:
One member had read four very different murder mysteries, just for the fun of it, and to try some new authors:
Murder in Old Bombay by Nev March
Murder in a Book Shop by Carolyn Wells
Head Case by Michael Wiley
Marion Lane and the Midnight Murder by T.A. Willberg
Another member had read stories from America's "pioneer" history:
Old Town in the Green Groves by Cynthia Rylant
Pioneer Girl and Prairie Fires by Laura Ingalls Wilder
Caroline: Little House Revisited by Sarah Miller
The Family Ship by Sonja Yoerg
The Rebel Chef by Dominique Cremm
A Time for Mercy by John Grisham
We Begin at the End by Chris Whitaker
The Alice Network by Kate Quinn
The Climate Diet: 50 Simple Ways to Trim Your Carbon Footprint by Paul Greenberg
The Four Winds and The Great Alone by Kristin Hannah
The Paris Wife and When the Stars Go Dark by Paula McLain
June will be here before we can read a book and turn around twice, so please put Book Club: Thursday, June 3, 12:00, Library on your calendars.
Let's have another great conversation then!