June 7, 2021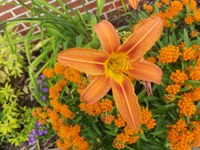 Hello, Book Groupers!
Six of us were able to meet at the library last Thursday.  Here are the books we talked about:
Before She Disappeared, by Lisa Gardiner
The Plot, by Jean Hanff Korelitz  (Stephen King says this book is "insanely readable.")
What You are Getting Wrong about Appalachia, by Elizabeth Catte
The Color of Heaven (Book 1 of 13 in the Color of Heaven series), by Julianne MacLean
What Comes After, by Joanne Tompkins
The Things We Leave Unfinished, by Rebecca Yarros
Caul Baby, by Morgan Jenkins
Beyond the Sun and Sea: One Family's Quest for a Country to Call Home, by Ty McCormack
My Broken Language: a Memoir, by Quiara Alegría Hudes
Mother Grains: Recipes for the Grain Revolution, by Roxana Jullapat
Three O'Clock in the Morning, by Gianrico Carofiglio
Winter in Sokcho, by Elisa Shua Dusapin
I must admit, the word "caul" sent me to the internet, where I learned  all about the word's various meanings.  If I ever knew about caul babies, I had forgotten it.  How could I possibly not know, or forget, this word – and the cultural associations which societies around the world have attached to it.  Oh my, book club is so good for me!
Our next book group gathering will be Thursday, July 1 at 12:00 noon at the library.  If the weather is nice, we can meet outdoors.  Let's all wear hats with brims and sun glasses!  Just kidding:  that's what I have to wear in sunshine, but you don't, if you don't want to!
Wishing you happy summer days:  stay safe; care for those around you and those far away; read (or listen to) books. 
Suzanne